Mystic Guardians » Guardians » Treedle
| | | | | |
| --- | --- | --- | --- | --- |
| 1st evolution | | 2nd evolution | | 3rd evolution |
defense goes down a bit from Treedle to Treedoo
Treedle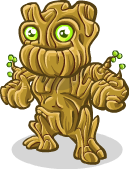 Despite his cute exterior, Treedle is known as a tough, if not fast, opponent.
Treedle evolves into Treedoo at level 17. Evolution items:

Nature Crystal x2


Nature Dust x2


Branch x1
Treedoo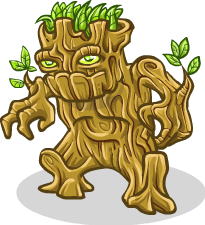 Treedoo prefers to stick to the shadows of the forest, lashing out at enemies with nature based attacks.
Treedoo evolves into Treezer at level 37. Evolution items:

Nature Crystal (unknown)


Nature Dust (unknown)


Branch (unknown)
Treezer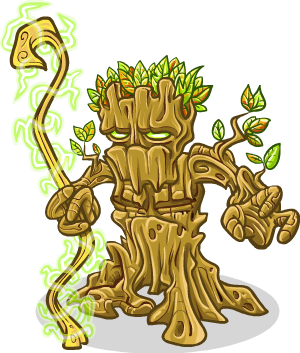 Towering over his opponents, Treezer rains down spells upon his foes with the aid of his druidic staff.
Treezer is the final evolution of Treedle.
Treedle

A Treedle. He looks like a tree.

Type:

Nature Guardian

Species:

Living Tree

Health:

Very Bad

Attack:

Bad

Defense:

Poor

Special Attack:

Good

Special Defense:

Very Good

Speed:

Bad

Note:

Unlike Orkillion's staff, Treemur's staff only has magical powers when the user is a proficient magic user that knows how to use it.
Location
Treedle is an uncommon Guardian in:
Treedle can also be bought in Guardian Centres for 25 
Moves
Stats
Level: 25 (captured on level 8)
Health: 221
Attack: 37
Defense: 38
Special Attack: 70
Special Defense: 32
Speed: 36

Level: 30 (Treedoo - captured on level 6)
Health: 300
Attack: 39
Defense: 42
Special Attack: 81
Special Defense: 44
Speed: 45
Tips
Treedle is not a very strong guardian and is not recommened to have on your team.
Community content is available under
CC-BY-SA
unless otherwise noted.