Mystic Guardians
 > 
Areas
 > 
The Forest
  > The Wooded Forest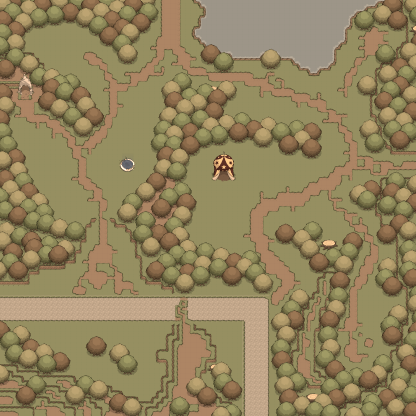 Dyed Trainer
Sports Collection

Iron Chest

Short Trainer

Impatient Trainer

Toll Booth
50 Trainer Tokens

Famous Trainer

Suave Trainer

Off-Duty Trainer

Poetic Trainer

Nerdy Trainer

Spunky Trainer

Iron Chest

Tough Trainer

Learned Trainer

Adventurous Trainer

Girly Trainer

Punk Trainer

Well Dressed Trainer

Unshaven Trainer

Dedicated Trainer

Teleporter
Items
Wild Guardians
Wild guardians levels 12-18[1]
Not Complete
Percentages based on 100 random encounters
Trainers
Your Friend (One time only) (Gives 2 Trainer Tokens)
Nerdy Trainer
Spunky Trainer
Suave Trainer
Off-Duty Trainer
Poetic Trainer[2]
Dyed Trainer (also Sports Collection)
Short Trainer
Impatient Trainer
Famous Trainer
Unshaven Trainer
Dedicated Trainer
Well Dressed Trainer[3]
Punk Trainer
Girly Trainer
Adventurous Trainer
Learned Trainer
Tough Trainer
---
↑ guardians level 18 at player level 11
guardians level 17-18 at player level 13
↑ The Poetic trainer says "Prepare to be Haiku'd". This could be a double reference. First, to the Japanese poetic form 'Haiku' since she is a poet. Second, to the Haiku operating system which is compatible with BeOS which was used in the development of this game.
↑ The well Dressed Trainer says "Eventually, you'll be able to change what you're wearing." This is an indication that in future updates, players will be able to customize not only the color, but the clothing too.
Community content is available under
CC-BY-SA
unless otherwise noted.