Mystic Guardians » Guardians » Squilly
| | | | | |
| --- | --- | --- | --- | --- |
| 1st evolution | | 2nd evolution | | 3rd evolution |
Squilly

Perched on his bushy tail, Squilly is an effective attacker and somewhat resistant to special attacks.
Squilly evolves into Squail at level 18. Evolution items:


Evolution Crystal x5

Evolution Dust x5


Bread x2
Squail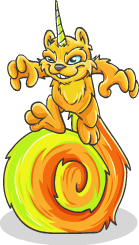 Squail is especially adept at deflecting special attacks with his colorful tail.
Squail evolves into Squallard at level 38. Evolution items:


Evolution Crystal x8

Evolution Dust x8


Bread x3
Squallard
With his rainbow tail to distract opponents, the Squallard's attacks appear to come from seemingly nowhere.
Squallard is the final evolution of Squilly.
Squilly

'

Type:

Normal Guardian

Species:

Squirrel Unicorn

Health:

XXX

Attack:

XXX

Defense:

XXX

Special Attack:

XXX

Special Defense:

XXX

Speed:

XXX

Note:

XXX
Location
Squilly can be bought in the New Haven and Shady Vale Guardian Centres for 100 

.

Moves
Stats
Level: 30 (captured on level 1)
Health: 315
Attack: 75
Defense: 44
Special Attack: 42
Special Defense: 73
Speed: 32
Level: 25 (Bought at level 1) (Written by abb7 on Kongregate)
Health: 234
Attack: 62
Defense: 33
Special Attack: 34
Special Defense: 61
Speed: 40
Strategy
A Squilly can be a really good answer to most of your Whirly problems, if you know how to use one. It's high Special Defense will make it quite able to absorb the furious winds of your opponent. A good idea is to make him learn Bop, to decrease your opponent Special Attack while still doing high damage. You could also augment his Toughen to level 2, so that even when hit by some Wind Blast, he'll be able to maintain high attack power. Give him a level 2 Prepare, and you might well have a guardian impervious to most attacks, resisting well to all elements but rock, and taking low damage from normal ones thanks to Toughen 2. Make sure your Squilly is strong enough to use these attacks without being killed first.
In short, the Squilly is almost perfect for defeating almost all Guardians, especially if you give it buff and/or debuff moves. The only sort of Guardian it might have problems with are Normal types, which, if you level it up reasonably, and perhaps spend one point on Defense, won't cause you too many problems.
Community content is available under
CC-BY-SA
unless otherwise noted.