Mystic Guardians » Guardians » Squiddy
| | | | | |
| --- | --- | --- | --- | --- |
| 1st evolution | | 2nd evolution | | 3rd evolution |
Squiddy

When startled, the Squiddy shoots out a small jet of black ink! Try not to get any in your clothing!
Squiddy evolves into Squiddle at level 12. Evolution items:

Squiddle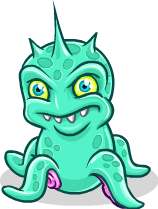 Quick to anger, Squiddle's main horn is as sharp as a knife and can impale almost any foe.
Squiddle evolves into Squidzilla at level 31. Evolution items:

Squidzilla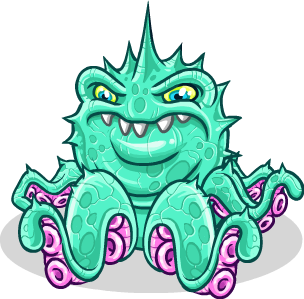 Squidzilla's strong legs have been known to drag foes beneath the waves, never to be seen again.
Squidzilla is the final evolution of Squiddy.
Squiddy

A Squiddy. Many people worry about him being out of water, but he can easily survive on land.

Type:

Water Guardian

Species:

Squid

Health:

Horrible

Attack:

Acceptable

Defense:

Very Bad

Special Attack:

Acceptable

Special Defense:

Bad

Speed:

Poor

Note:

Squiddle's and Squidzilla's spikes are hard, unlike their squishy body.
Location
Squiddy is a rare find in the following areas (including their caves):
Squiddy can also be bought in Guardian Centres for 50 

.

Moves
Stats
Level: 25 (captured on level 1)
Health: 238
Attack: 46
Defense: 40
Special Attack: 42
Special Defense: 40
Speed: 40

Level: 30 (captured on level 6)
Health: 327
Attack: 46
Defense: 46
Special Attack: 78
Special Defense: 44
Speed: 37

---