Mystic Guardians
 > 
Areas
 > 
New Haven
  > North New Haven (
PvP Area
)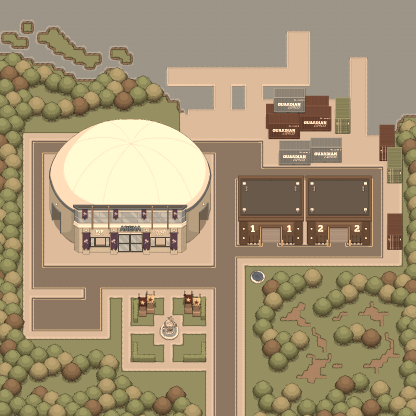 Teleporter

Healer

This section needs your help!
Look at her crying eyes! I'm sure you want to help now...
North New Haven
North New Haven, as its name suggests, is an area to the north of New Haven. It is a new area that was launched in Mystic Guardians on the 14th of September, 2012. Earlier this area was blocked with the excuse that there's a loose seal in the dock that is causing havoc[1]. This new area not only has the new PvP arena, but also has the dock, which may, after future upgrades to the game, be used to cross The Great Lake to reach The Beach City.
This new PvP arena has replaced The Battle Grove as players must travel to North New Haven in order to PvP. They simply cannot PvP in the Grove anymore; as quoted by the NPC in the grove- "If you're looking for PvP, you should head to North New Haven. The new Arena there handles all the PvP for this part of the island now. We're not allowed to fight here anymore."
The new PvP system (now called "The Champion's League"), along with one on one PvP, brought with it the launch of PvP Guilds. Also, the player can, from the arena in this area, not only participate in PvP but also in PvT (player versus Trainer). Details about PvP can be found here .
PvP Guilds
For information on PvP guilds, please refer here .
PVP
How it works
Players are matched on the basis of the level of the highest level guardian in the player's current team. ( i.e. the level of the highest guardian will be nearly the same for both the players (within 1 level), although the level of other guardians may differ). The server matches players from both Kongregate, Facebook , and Armor Games, so it is possible for a player playing from one website to be matched with a player on the other. If the server cannot find anyone online and present at the PvP stadium, who has the same level highest guardian as the player and the searching counter reaches zero, the server matches the player with an NPC who's level will be the same as the player's trainer level and whose guardians will match the levels of the players guardians (possibly one level higher).[2]
Every week, after the players finish their first battle, they are put into a division based on their trainer level and their guardian levels. When a player starts to look for a battle partner, the server first matches him with someone in the same division if online (and if the guardian level matches) and if no one from the division can be matched, from outside the division. This way, players can also compete with others in their division for ranks. There is currently no separate reward for ending in the top 3 ranks of your division apart from the weekly battle point prizes and bragging rights.
Battle Points System
The Battle Point System has changed on 01/10/2012 and the guid has been changed to reflect that.

The PvP works on a 'Battle Points' system.
Winning or losing no longer affect BP gain, only guilds.
You gain 1 Battle Point (BP) for each knockout, using bombs/scrolls to knockout an opponent does not give BP. (0-4 per match)
These Battle Points are reset every Sunday at midnight (game server time) and Monday starts a new week.
Fleeing
If you flee from battle (or get disconnected[3]) you will get banned from PvPing for 15 minutes. You will lose 2 divisional ranks as well (go down 2 places within your weekly division).
Not choosing a move 3 times in a battle will result in auto fleeing and 6-7 minutes of ban
Limitations
All Guardians must be level 6 or higher to PvP.
Rewards
From 01/10/2012 on all prizes require more Battle Points. This list has been updated to reflect those changes.
30 BPs: Medium Healing Potion
120 BPs: Large Healing Potion
240 BPs: Revival Potion
360 BPs: Large XP Potion
500 BPs: Grand Weekly Prize (Guardian)

The Grand weekly prize changes every week though the other prizes remain the same. The 500 point reward is a guardian, so the players have an opportunity to obtain different guardians by accumulating enough BPs every week.
NPC Behavior
These are observations - not facts
Unlike players, when NPCs heal it is considered a full action (they don't attack the same turn)
| | | |
| --- | --- | --- |
| | Atom B. | Switches moderately (ie hits a couple of times before switching). Uses healing. |
| | Dragon | Very few switches. Uses healing. |
| | Herman O. | Didn't switch. |
| | Dave[4] | Seldom switches (doesn't automatically switch when faced with a stronger element), uses potions. |
| | Marky Mark W. | Very rarely switches (even when faced with a stronger element/in critical state). Rarely uses healing. |
| | Travis T. | Uses healing. Switches frequently, but not automatically. |
| | Vira S. | Switches very frequently/automatically. Uses healing. |
Pvp weekly rotation
Note: Everything below this point is no longer in the game and is just here to inform players of what the pvp prize has been in past times.
Grand Prize History
Dates are in dd/mm/yy format
80 BP
500 BP
The Challenger League PvT
This was implemented on September 15th, 2012.
In the PvT Leagues, players fight against very strong NPC's. The trainers are divided up into a league system, with eight trainers in each league, with a total of five leagues. Players can get rewards such as gold coins, bombs, potions, or even Guardian slots and Guardians themselves (including some rare ones) by finishing a league. Players also get one Trainer Token each for defeating every NPC trainer they fight. The different leagues are:
Bronze League. Rewards:

200 Gold Coins
4 Small Bombs (Normal damage)
4 Medium Healing Potions
1 Guardian Slot

Silver League. Rewards:

400 Gold Coins
2 Revive Potions (Heal 100 HP each)
4 Large Healing Potions
1 Guardian Slot

Gold League. Rewards:

800 Gold Coins
4 Medium Attack Potions
1 Guardlan Slot

Platinum League. Rewards:

1,600 Gold Coins
4 Medium Defence Potions
8 Large XP Potions
1 Guardian Slot

Diamond League. Rewards:

2,400 Gold Coins
6 Large Healing Potions
1 Guardian Slot
Trainers will often heal their guardians and use items such as potions and scrolls. Especially the trainers in the Diamond league.
Each win gives you 1 Trainer Token.
Edited by Bhadi (moves added) on 25/07/2014
Re-edited by Bhadi (Trainer 1 moves added) on 11/09/2015

Guardians Levels 37-42
Diamond Trainer 1 (Uses large healing potions)
Diamond Trainer 2 (Uses large healing potions)
Diamond Trainer 3 (Uses large healing potions)
Diamond Trainer 4 (Uses large healing potions and scrolls)
Diamond Trainer 5 (Uses large healing potions)
Diamond Trainer 6 (Uses large healing potions)
Diamond Trainer 7 (Uses large healing potions)
Diamond Trainer 8: (Uses large healing/attack potions)
Other Stuff
Nurse: Healer (near the entrance)
Augmentor (near the entrance)
Shop guy (near the entrance)
Teleport Pad (a few steps north of the entrance)
---