Mystic Guardians » Guardians » Mooky
| | | | | |
| --- | --- | --- | --- | --- |
| 1st evolution | | 2nd evolution | | 3rd evolution |
Mooky

While it may seem docile at first, a startled Mooky can move at incredible speeds.
Mooky evolves into Kowa at level 13. Evolution items:


Evolution Crystal x2

Evolution Dust x2


Bread x1
Kowa
Kowa is a brown belt in Guardian kung-fu, and can cripple an opponent before they even know he's there.
Kowa evolves into Oxin at level 33. Evolution items:


Evolution Crystal x3

Evolution Dust x3


Bread x2
Oxin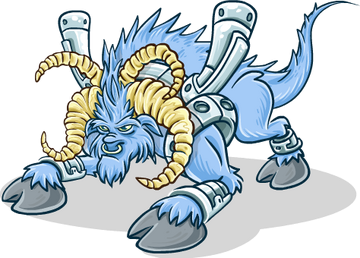 What Oxin lacks in speed, he makes up for in brutish resilience.
Oxin is the final evolution of Mooky.
Mooky

Mooky

Type:

Normal

Health:

Good

Attack:

Very bad

Defense:

Bad

Special Attack:

Bad

Special Defense:

Very bad

Speed:

Good

Note:

Ignore the sudden generation of metal onto the Oxin. It's not worth wondering about.
Location
Mooky is common in all Forest and Mountain areas and Forest/Mountain caves.

Moves
Stats
Level: 25 (captured on level 1)
Health: 269
Attack: 43
Defense: 35
Special Attack: 35
Special Defense: 35
Speed: 38
Trivia
Tips
Mooky is not a very strong guardian and it is not recommended to have him on your team. However, Oxins have lots of Health and have not unreasonable Attack, making them useful Normal Guardians. Speed-wise, their attacks are also useful. But mooky has high defense making him good in ofense. No bull, mooky are the best guards ever when they reach lvl34 they have a stat glitch in which they then increase 40 attack on lvl 34