Mystic Guardians » Guardians » Flicker
| | | | | |
| --- | --- | --- | --- | --- |
| 1st evolution | | 2nd evolution | | 3rd evolution |
Flicker

While cute to look at, Flicker has been responsible for more forest fires than any other Guardian.
Flicker evolves into Flame at level 20. Evolution items:


Fire Crystal x2


Fire Dust x2


Hot Pepper x1
Flame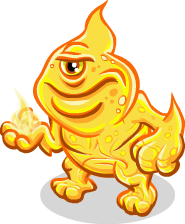 Flames leave a path of fire wherever they walk.
Flame evolves into Inferno at level 42. However, a level 38 Inferno can be found in Diamond League. Evolution items:


Fire Crystal (unknown)


Fire Dust (unknown)


Hot Pepper (unknown)
Inferno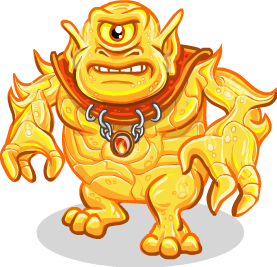 In addition to lighting the immediate area on fire, a raging Inferno lights everything in sight on fire as well.
Inferno is the final evolution of Flicker.
Flicker

A quite innocent looking Flicker.

Health:

Bad

Attack:

Bad

Defense:

Very bad

Special Attack:

Very good

Special Defense:

Bad

Speed:

Poor
Location
Flicker is an uncommon Guardian in:
Flicker can also be bought in Guardian Centres for 25 
Moves
Notes and Strategy
It's high special attack makes this a strong Fire Guardian.
Stats
Level: 30 (captured on level 1)
Health: 299
Attack: 57
Defense: 38
Special Attack: 75
Special Defense: 37
Speed: 45