Mystic Guardians » Guardians » Firball
| | | | | |
| --- | --- | --- | --- | --- |
| 1st evolution | | 2nd evolution | | 3rd evolution |
Firball

Firball's cute look can be deceiving, as his deadly fire attacks are tough to predict and difficult to avoid.

Firball evolves into Firslash at level 11. Evolution items:


Fire Crystal x2


Fire Dust x2


Hot Pepper x1
Firslash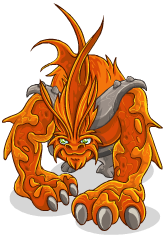 Shedding it's innocent looking fur, Firslash's rippling muscles make no attempt to hide its enormous strength.

Firslash evolves into Firstomp at level 31. Evolution items:


Fire Crystal x5


Fire Dust x5


Hot Pepper x2
Firstomp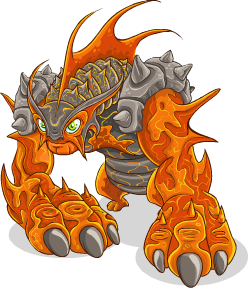 It is rumored that not even a solid blast of water is enough to knock Firstomp off it's trunk-like legs.

Firstomp is the final evolution of Firball.
Firball

A Firball

Type:

Fire Guardian

Species:

Ball of Fur

Health:

Very Bad

Attack:

Very Bad

Defense:

Bad

Special Attack:

Poor

Special Defense:

OK

Speed:

OK

Note:

Firslash and Firstomp have muscles, despite their being a ball of fur. We are not sure how that is possible.
Location
You can choose Firball as your first Guardian at The New Haven Fairgrounds.
If you choose Crabby, you get Firball from Jill in The Tangled Forest.
You can also buy him from the Shady Vale Guardian Centre for 100 

Moves
Stats
Level: 25 (captured on level 1)
Health: 225
Attack: 42
Defense: 35
Special Attack: 69
Special Defense: 32
Speed: 38
Level: 27 (captured on level 1, boosted)
Health: 272
Attack: 33
Defense: 45
Special Attack: 100
Special Defense: 46
Speed: 27
Level: 25 (captured on level 1)
Health: 234
Attack: 36
Defense: 31
Special Attack: 67
Special Defense: 46
Speed: 33

Trivia
Community content is available under
CC-BY-SA
unless otherwise noted.